Presented here are what many consider the 13 major varieties of koi or "Nishikigoi".  There are certainly some koi practitioners that may consider there to be up to 16 varieties (and even up to 22 if one counts newer strains of koi).  This summary includes some history of the variety (where applicable) as well as physical descriptions of each variety.
1) Asagi and Shusui
These two varieties are typically clumped together.  "Asagi" means light blue.  These koi colorations follow a net-like pattern where their backs are predominantly blue or gray and their bellies are red or orange.  As these varieties grow older and large they tend to develop black spots in the head area.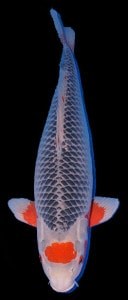 2) Bekko 
This variety was actually developed back in the early 1800's and is recognized by their tortoise shell like pattern.  Some of the more common colors can be orange, red, yellow, or white with black undertones. This variety tend to have a solid base color (such as orange, red, yellow or white) with black markings typically occurring above the lateral line.  Bekko can be more desirable to a breeder if the specimen has no markings on the head region but in general they aren't usually a variety that one sees winning big competitions.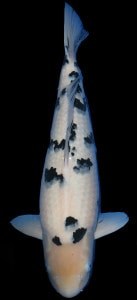 3) Hikarimoyo Mono 
Hikarimoyo translates into "metallic pattern".  The colors on these koi will be very pronounced-these are very vibrant looking fish with a distinctive metallic look.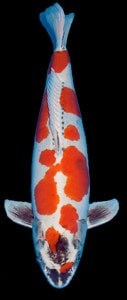 4) Hikari Utsuri Mono 
This variety of koi are bi-color and have unmistakable metallic scales.  They are similar in appearance to fish of the Utsuri lineage but have a shiny look.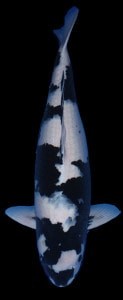 5) Kawari Mono 
Koi taking on this moniker often don't readily fit into any other category very easily.  This newer variety is will include koi such as karasu goi, goshiki, and ki goi.  This variety is not all that common, especially those specimen that are large in size.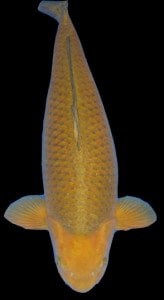 6) Kinginrin 
Two things are distinctive about this group: 1) they have a bright metallic sheen and 2) they tend to have a silver coloration that typically occurs in a variable distribution on the body.  Metallic scales were first seen in 1929 and the name translates into "gold and silver scales".  These specimens will almost always look more radiant in sunlight.  The most valuable kinginrin are those that have a unique pattern covering the region between the "shoulder" and back.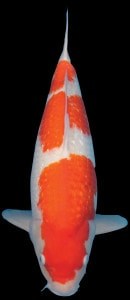 7) Kohaku 
Definitely the most popular of all the varieties, kohaku is arguably one of the most valuable as well.  The first "official" modern Kohaku was most likely spawned sometime around 1888 in Japan.  It is said that koi hobbyists may experiment with rearing other varieties but ultimately everyone always comes back to Kohaku.   There are numerous types of koi that occur within this variety but they distinguished by radiant red markings on a solid white body.  Additionally, this variety will have a red pattern on its head as well.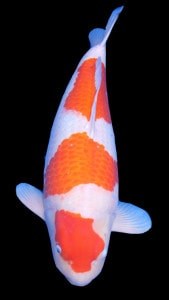 8) Koromo 
Not quite as common as some of the other varieties these koi have a blue or silver undertone with red and white markings over it which gives the fish the appearance that they are wearing a "robe" (which is what "koromo" translates to).  Those specimen retaining blue crescent markings in a predictable pattern can be very valuable to a breeder or buyer.  Those fish that have heavy markings of red or white tend to not be as valuable as others that have an equal amount of each color.  Additionally, those specimen that lack head markings also tend to be of greater value.

9)  Ogon 
When thinking of this popular variety think about gold because these koi will have a metallic gold appearance that can vary from light gold to a darker gold.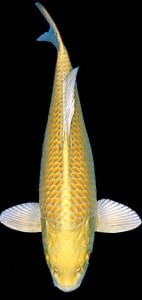 10) Showa Sanke 
Developed in the 1920's the Showa are named after the Emperor of Japan at the time. This variety is most commonly referred to as just Showa and is predominantly black with some white and red markings on the body.  The black coloration typically goes all the way to the belly with the head and pectoral fins also taking on the black coloration.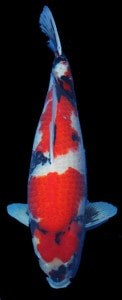 11) Taisho Sanke 
Developed around 1917 in Japan, this koi variety translates into "tricolor" due to its primarily white undertone accompanied by red and black markings.  The black markings (sumi) are typically confined to the area of the body above the lateral line.  When the fish is young the black markings are not as defined but as it ages and grows the markings take on the more desirable sharp edged sumi.

12) Utsuri Mono 
Developed in the late 1800's this koi variety is typified by a black undertone accented by yellow, white or red markings.  One thing that distinguishes this variety is their pectoral fins; they are black and have a triangular shape.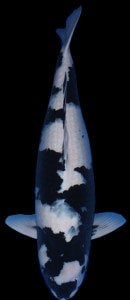 13) Tancho 
Perhaps the easiest to identify the tancho koi is snow white with a red marking on the top of the head, usually a circle.   This is a highly prized variety especially if they have no additional markings except a near perfect red dot on the head.  This red marking should not extend to the nose or as far back as the shoulder.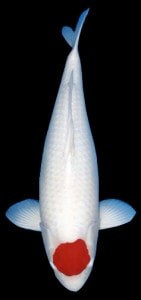 If the diversity of these varieties interest you enough to breed them, please click here for more information on koi breeding.  Ancient koi breeders even attributed certain traits and varieties in fish with benefits and fortune that the owner of the fish would receive.  For example, the Ogon variety symbolizes success and wealth in business and may even act as a "good luck charm" to that end. To learn more about koi varieties and their symbolism see this article "koi fish yin yang".